Quick… Think of one good reason the fast food industry should exist as it does today – Go! Anything?
From the disastrous environmental effects of factory farms to the endless health concerns associated with junk-based eating habits something has to change. In honor of National Fast Food Day (Nov. 16) we're hoping you'll join us in an indefinite, international boycott of the fast food industry as part of #ForgetFastFood.
This community initiative, as with all of our others, is completely dependent on broad-based public support from people like you.
Want to help fund what we do? You can contribute to support this initiative specifically, or make a general contribution to our Resistance Fund. Thank you for being you.
Primary Goals
Inspire a critical mass of humans to completely stop consuming products from the Fast Food Industry.

Raise Awareness about the negative effects Fast Food has on the body and the planet.

Keep Fast Food in the mainstream conversation about climate change and the environmental ramifications of human consumption.

Encourage Fast Food Industry Giants to consider radically different business models which can provide organic, sustainable nutrition to the masses.

Spur Entrepreneurial Development of environmentally-sustainable business models in the Food Industry as alternatives to the status quo.
Getting Involved
"As a human concerned with the impact of our species on the natural environment, I will refuse to consume products from the fast food industry and will encourage my friends, family and colleagues to do the same."
---
Taking the

Pledge
The central component of this initiative is convincing humans to stop consuming products from the Fast Food Industry. This isn't a "Hey let's not eat fast food for a week" pledge. This is for good. Imagine if a critical mass of people joined this effort – the entire industry would be forced to adapt!
How are YOU

Making this Work?
The only thing we're absolutely sure about is that we don't have all the answers. Humans need alternatives if we're going to really #ForgetFastFood. How have you made this work? What makes this difficult? What makes it easier? The SEEKJOY Community needs your wisdom. Share your strategies, facts, memes and ideas to the #ForgetFastFood Facebook Group and if you're game we'd love to broadcast your story on our website! Shoot us a message via the Contact Form, let's do this.
Got

Ideas?
We're always on the hunt for new ways to get people involved with this initiative. If you've got an idea or two as to how best we can work best advocate #ForgetFastFood drop us a line via the contact form – we'd love to collaborate and make something happen!

Shareable Graphics!
How exactly you go about enlisting your own network is up to you, but we've created some graphics that might help. They're all yours – feel free to download and share them any way you'd like. If you'd like, tag us in your posts and you'll be guaranteed at least one like 🙂
Have an awesome graphic of your own you've created to support the #ForgetFastFood initiative? We'd love to see & share it! Post the image to our Facebook Wall and with your permission we might just add it to this site!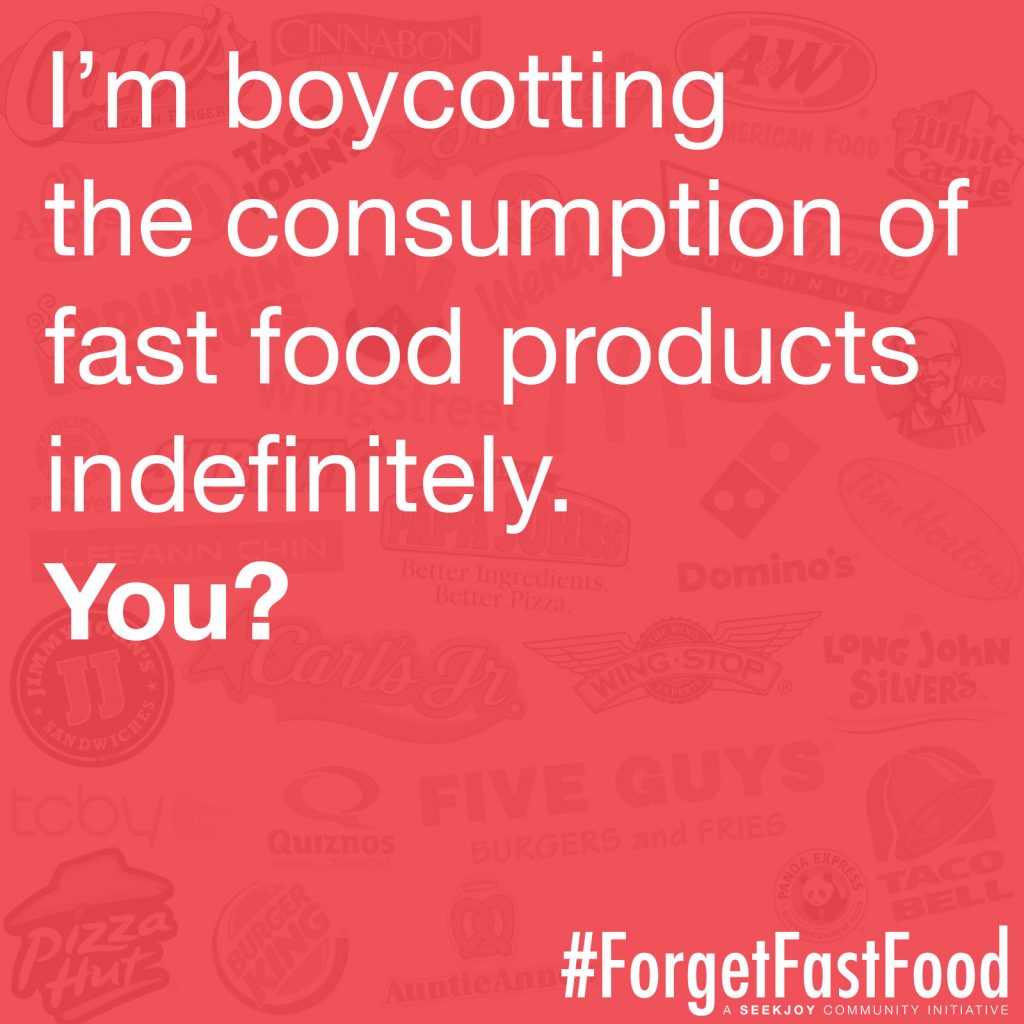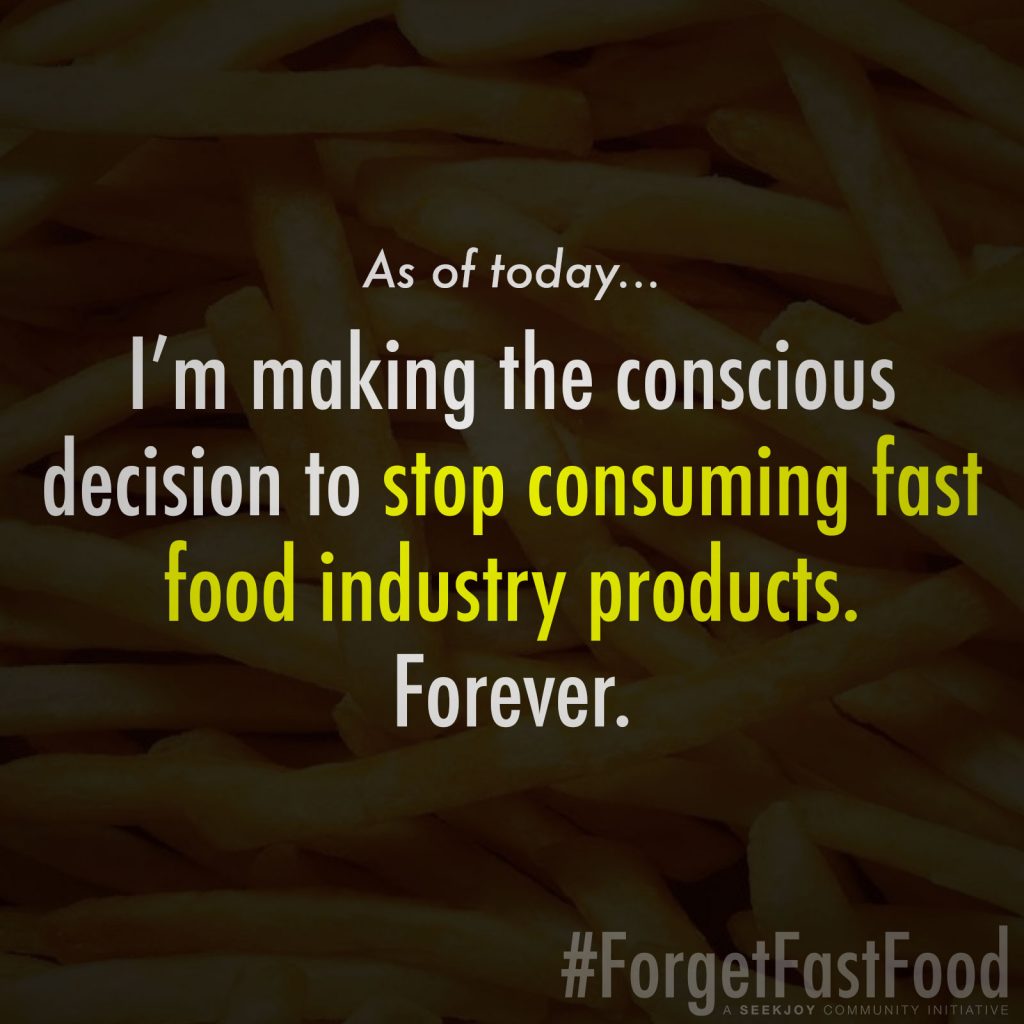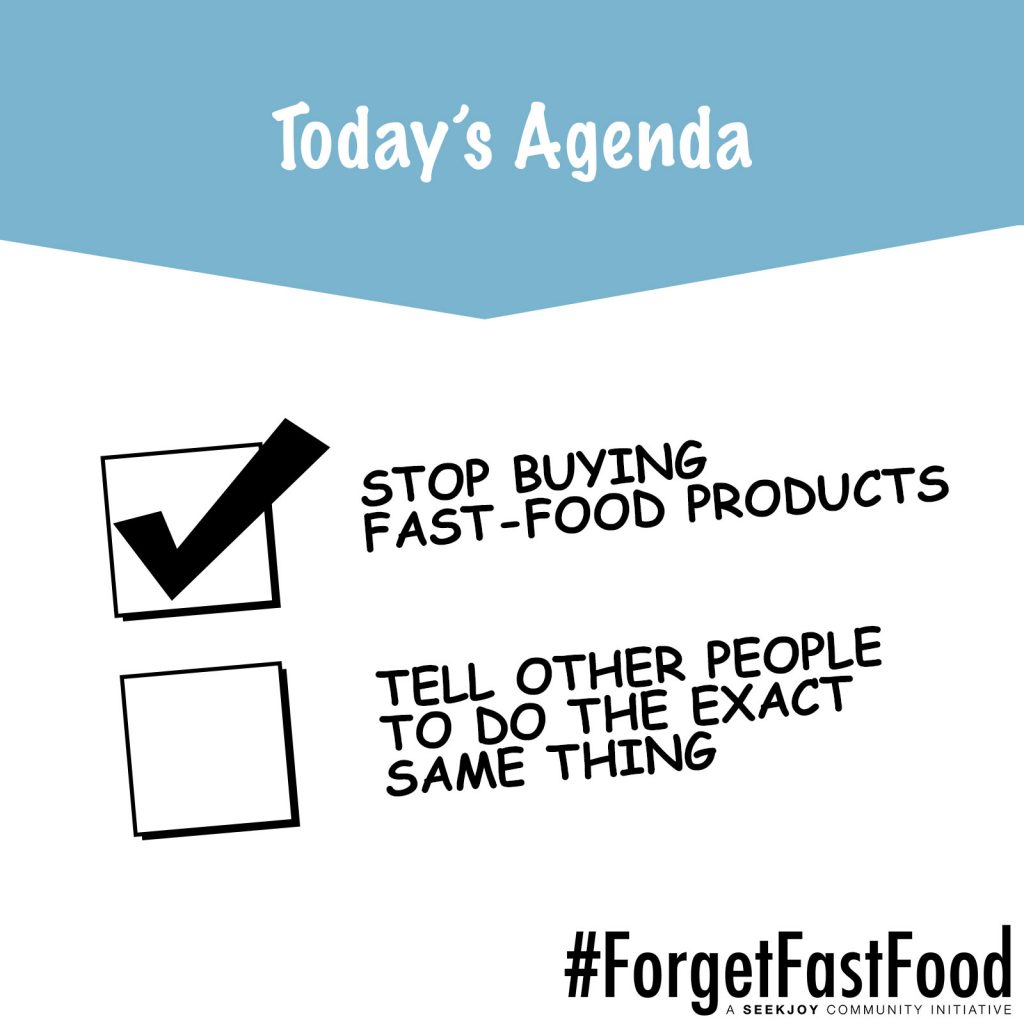 Frequently Asked Questions
Great! Awesome! That would suggest you're already on board with this little initiative of ours! Now, of most importance to bring about change here is getting all of your friends, family & colleagues on board with the movement as well. Tell them about this initiative, why you think it's important, and give them any suggestions you may have as to how best to replace fast food meals with healthy, non-environmentally-destructive alternatives.
Then you failed the movement! Just kidding. We know this is rough. Our goal here isn't to make your life miserable – we're simply encouraging humans to pressure an industry that is a leading cause of environmental degradation. So you caved and that's a bummer but don't be too hard on yourself. Get back on the horse and eventually it'll just become second nature to pack your own sandwich and drive right past the golden arches (or whichever million-dollar marketing symbol lured you into proactively supporting the destruction of our planet).
Just like almost every SEEKJOY Community Initiative, there's no clear means of being compensated for our efforts. That said, some time in the near future we'll be adding some items to our online store that can be used in promoting the goals of #ForgetFastFood. Check back soon!
#ForgetFastFood