The Line 3 Pipeline "Replacement" Project was the largest expansions of Tar Sand Oil infrastructure in North America and built through the wetlands, rivers, streams & forests of Northern Minnesota.
After a more than 7 year regulatory battle and year of on-the-ground resistance during a global pandemic, construction has been finished…
Wanna be notified about upcoming court hearings, trials & ways to support Line 3 defendants moving through the criminal justice system?
---
Defendant organizers have put together a rapid-response style email list to send updates related to the #FloodTheCourts effort. Click below to subscribe!
Subscribe to Flood the Courts Email List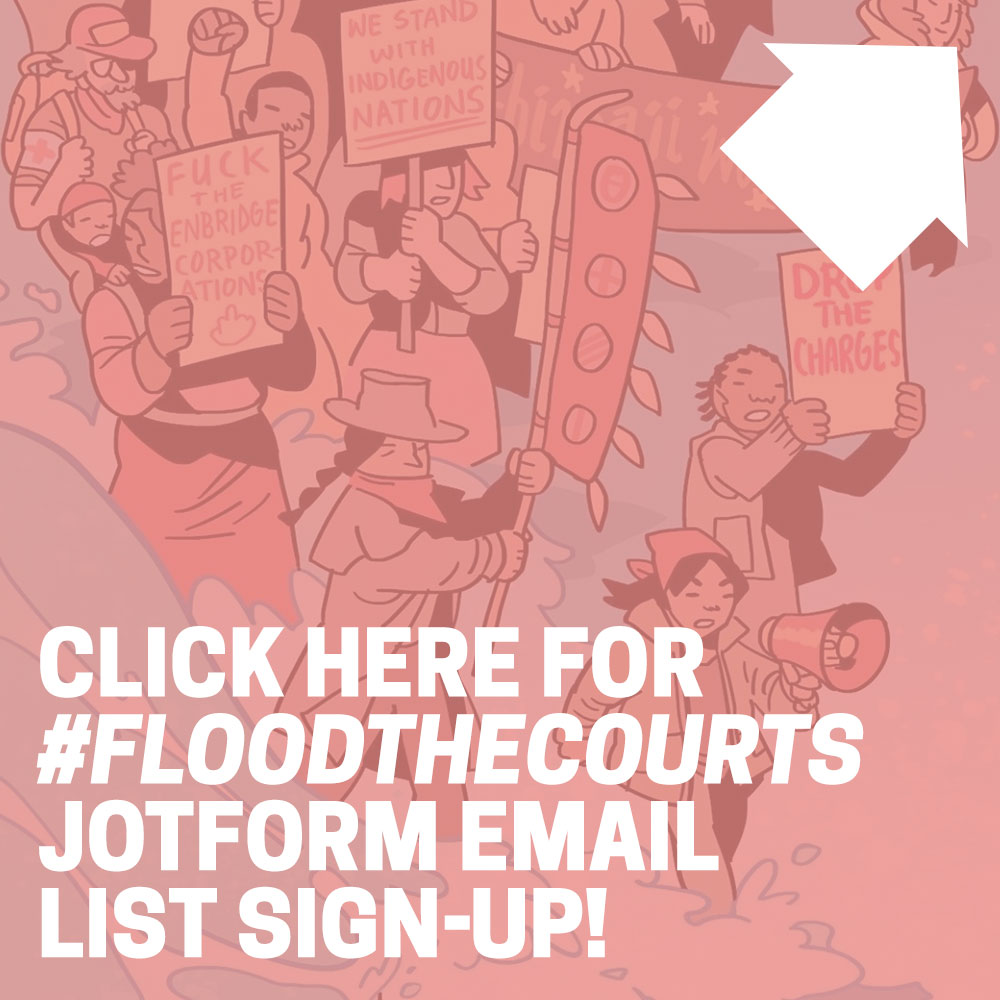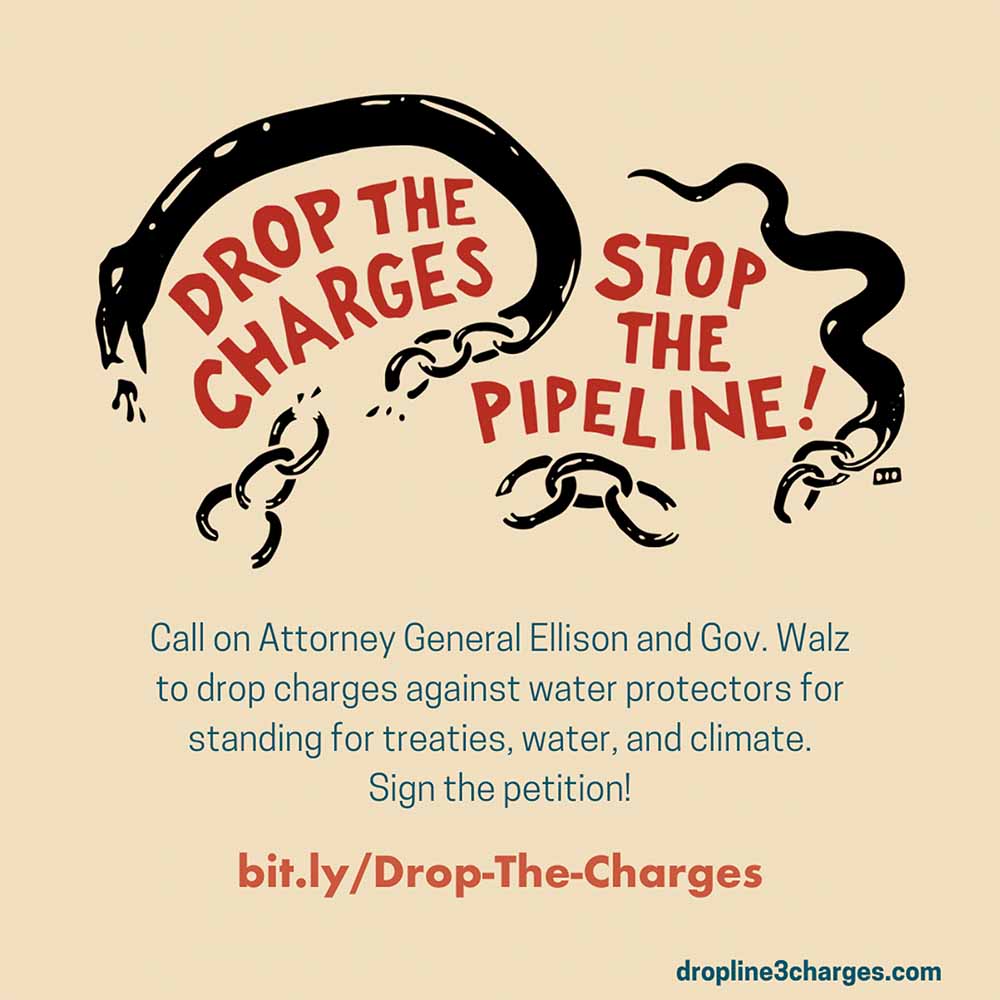 Support Water Protectors arrested while defending the land against construction of the Line 3 Tar Sands Oil Pipeline.
---
Go to DropLine3Charges.com
Enbridge Energy has announced that as of October 1st, 2021 the Line 3 Tar Sands Oil Pipeline is in service and flowing oil across Minnesota and the sovereign territory of the Anishinaabe people.
The Line Pipeline "Replacement" project was the largest expansion of fossil fuel infrastructure in what we call North America and completed at a time when we're in a "Code Red" climate crises according to the 2021 IPCC report. From 2018 through the present, the grassroots community here at SEEKJOY did everything we could to organize against this project. We lost. We learned. We stood. We had victories. We built relationships. We changed hearts, and we changed minds. Although much of the "frontline" chapter of this fight has come to a close it is more important than ever to support our relatives who were arrested in defense of the land & people, and continue to support resistance efforts against the corporate state.
On-going #StopLine3 Frontline Support Requests
Primary Goals of Our Work
to #StopLine3 have been to:
Support grassroots & non-profit efforts on the ground via strategic media support, mutual-aid, and organizing horsepower.

Build and strengthen alliances between the broader Twin Cities and those in the Central/Northern regions of Minnesota most effected by the proposed route.

Encourage those who enjoy hunting, fishing, canoeing, hiking and other outdoor activities in the North Woods to jump on board with efforts to stop further degradation of Minnesota's natural beauty.

Raise awareness about the significance of Line 3 in the context of the Global Climate Crisis.
Debunking Myths You've Seen/Heard About Line 3

The Line 3 Pipeline Project is not a "Replacement"
If you have a worn-out bicycle tire that needs replacing, you will typically remove your bicycle tire, mount a replacement, and put it back on your bicycle. Similarly with regards to the "Line 3 Replacement Project", one would expect this to include removing Line 3 from the ground and putting a new pipeline back into the ground. This is not what is happening. As it stands, the existing Line 3 pipeline needing replacement will be left in the ground indefinitely, and the Line 3 replacement will be built with a larger diameter pipe, in an entirely different corridor, along an entirely different route.
---
Line 3 does NOT ship Bakken Crude from North Dakota, it Ships Tar Sand Oil from Canada.
There is a region in Alberta, Canada, known for its primary extractive industry resource: Tar Sands. Tar Sand "oil", or, bitumen as it is called, is not a liquid in its raw form. It is ashpalt attached to sand particles. Open-pit mines extract the sand and pulverize it with chemicals and steam to separate the Bitumen, which is then diluted with chemicals to become "Diluted Bitumen" (Dil Bit) so that it can be transported via pipe. If/when DilBit leaks from a pipeline over a water source, like with Enbridge's Line 5 on the Kalamazoo River in Michigan, the chemicals to dilute the bitumin evaporate into the atmosphere and the bitumen sinks. This asphalt substance is almost impossible to dredge & clean from the natural environment. Tar Sand Oil is considered the "Dirtiest Oil" on the planet because of the amount of resources it requires to extract, transport & refine.
---
Minnnesota does not "Need" this oil. MN Refineries are at capacity, and this product is intented for international markets.
Line 3 simply transports DilBit across MN to Superior, WI where for the most part it goes overseas. MN's own Department of Commerce (DOC) is actively suing Minnesota's Public Utilities Commission (PUC) because it does not feel Enbridge has shown, via Long-Term Energy Demand Forecast, that Minnesota needs the pipeline which is required by state law to receive a Certificate of Need (CN).
---
Line 3 will not create long-term "Jobs" in the State of Minnesota.
You have probably seen Enbridge advertise about the THOUSANDS of jobs Line 3 will create. It WILL require thousands of skilled workers to build Line 3, but once it is in the ground, these jobs will not remain. This whole project is a 6-8 month temporary construction gig that lays the foundation for 50+ years of increased fossil fuel extraction. Further, as evidenced across Northern MN right now, a majority of the current workforce on Line 3 is from OUT OF STATE. Not to mention: The steel pipes used to build Line 3, which have been stored outside in the elements of Minnesota for half a decade, were NOT made in Minnesota with Minnesotan steel from the Iron range – from what we know they are from Russia, with Russian steel.
---
The "Native Americans" have helped pave the way for this Project.
All of the Minnesota Chippewa/Ojibwe tribes opposed the Line 3 replacement project at the onset when Enbridge first filed for permits. After years in the courts battling against the project, as it became clear that Minnesota's State Agencies would collude to force the pipeline through, the Fond Du Lac Band in 2018 signed a deal with Enbridge to allow the project to be constructed in its original corridor across their Reservation in what prominent indigenous activist & Executive Director of Honor the Earth Winona LaDuke accurately calls a "Sophie's Choice" decision. All other Federally Recognized Tribes in MN, including White Earth, Leech Lake & the Red Lake Nation oppose the project and are actively trying to see construction stopped.
Do you Ski, Snowboard or enjoy being out and about in the snow?
We put together a campaign making it SUPER easy to share info about the Line 3 fight inside inside the Ski & Snowboard Community. Learn more at sNoLine3.com.
Checkout sNoLine3.com
Quick Facts & General Info about Line 3

The existing Line 3 Pipeline was built over 50 years ago and has over 900 "structural anomalies" – Enbridge's lingo for "places that need repair." Line 3 is one of 7 pipelines in the "Enbridge Mainline Corridor" and transports Tar Sand Oil from Alberta, Canada across Minnesota to Superior, Wisconsin where it is refined and/or shipped to the ocean.
The Line 3 Pipeline is designed to carry 960,000+ barrels of Tar Sand oil through 330 miles of Northern Minnesota where it crosses over 78 miles of wetlands and the headwaters of the Mississippi River in two separate locations. Waters in the region of Northern Minnesota where Line 3 is being built flow in all four directions. A spill, like what happened in the Kalamazoo River in Michigan by another one of Enbridge Energy's pipelines, would be catastrophic.
Enbridge has proposed that its "Replacement" for the Line 3 pipeline be constructed in a NEW corridor that branches from the existing Mainline corridor in Clearbrook, MN. The new route intentionally avoids the Leech Lake Reservation, as Leech Lake does not want to renew the leases it holds with Enbridge which are set to expire in the coming decade. The "old" Line 3, if the new pipe is built, will be sealed and stay permanently where it is until it degrades into the soil.
By building a new pipeline corridor for the Line 3 "Replacement", Enbridge will be positioned to slowly move ALL of its pipelines from the Mainline Corridor crossing through Leech Lake to the new corridor. This scenario has been raised in court by parties opposing the project, but has not been a part of Enbridge's filings.
Minnesota has an environmental review process for projects of this nature, administered by the Public Utilities Commission, Pollution Control Agency, Department of Natural Resources & the Department of Commerce. In advance of being approved to cross Minnesota, Enbridge had already began and completed construction of the Line 3 replacement in Canada, North Dakota and Wisconsin. If Minnesota takes a bold stand against Line 3 it will be a HUGE statement to Big Oil and have a ripple effect globally.
According to the analysis by Administrative Law Judge Ann O'Reilly in her report on the proposal in May, 2018, neither Enbridge Energy nor ANY of its partners or subsidies would be responsible for the financial burden of cleanup if the pipeline spills – it will be entirely up to Minnesotan Tax-Payers.
Minnesota's Department of Commerce is actively suing to have the "Certificate of Need" issued by the PUC revoked, contending in their lawsuit that Enbridge did not include a long-term demand forecast in the permitting process which is required for energy infrastructure of this kind in Minnesota.
According to a study compiled by 13 Environmental Groups, the building and operation of Line 3 will have the carbon-equivalent of constructing 50 new coal-fired power plants and the yearly emissions of Line 3 will be greater than the entire carbon footprint of the State of Minnesota across all sectors.
Efforts on the Ground
As part of #SYLFFIRE and our general mission statement, we're simply a back-end catalyst for those efforts on the ground opposing this project. A handful of these efforts have been summarized and linked to below!
Please Note! This list of groups & organizations is not arranged in any particular order. There is no "One Group" that is leading this movement on the ground.
Do you have an organization/page/project that should be included below?  Contact us and we'll get it posted.
---
---
---
---
---
---
---
---
---
---
---
---
---
---
---
---
---
---
---
---
---
---
Getting Involved & Taking Action in the Post-Frontline Chapter of this Movement
If you're just getting here & want to have a broad understanding of how to get involved, checkout out this ever-evolving On-Ramps to the Movement to Stop Line 3. Below are other general ways to get involved & support.
Going to the Northern "Minnesota"

Although the frontline chapter of the Line 3 fight has come to a close, Migizi Will Fly will be holding down on Fond Du Lac reservation in 1854 Treaty Territory. Connect with them via their Facebook page.
Share, Promote & Amplify
There are many "hashtags" being used in the ongoing opposition Line 3. Please follow the groups above that are ON THE GROUND and if you see something that has been posted, share it. Explore and engage with #StopLine3, #DropL3Charges, #NoLine3, #HonorTheTreaties, #HonorOurTreaties, #NoMoreMMIW, #ResistLine3, #WeWillStopLine3 & #NowDoLine3 on social media.
Sign Petitions
Various orgs, from local grassroots entities to national/international non-profits have active petitions that need signatures. Below are links to active petitions:
---
Via Drop the Line 3 Charges: Tell Attorney General Ellison & Gov. Walz: Drop the Charges Against Water Protectors!
Via MN350: Sign MN350's Pledge of Resistance
Lakota People's Law Project Petition: Tell Biden: Stop Line 3
Via StopTheMoneyPipeline: Tell Biden to Stop Line 3
---
Call Your Reps, Governors, Commissioners & Political Leaders.
Constant pressure must be put on our politicians to act. Calls, Texts & Emails to the following are mission critical:
---
Sample Scripts:
"Hi, my name is [name] and I'm calling from [place]. I'm calling because I'm extremely concerned about the construction of the Line 3 pipeline. The peipline is still facing enormous legal challenges from tribal nations, advocacy groups, and the Minnesota department of commerce. I'm calling to demand a halt to the construction to protect the integrity of the process, and to protect communities in Minnesota from the dangerous spread of COVID. Thank you!"
"I'm calling to ask Governor Walz to reverse his decision in allowing constructive of pipeline 3, and to stop construction immediately. I'm reminding him of the treaty he promised, and also asking why he is approving water crossing permits and allowing Enbridge to bring in 4000 out of state workers in the middle of a pandemic. It is irresponsible and disrespectful, and I am urging him to reverse his decision."
---
Donate Time, Materials or Money.
The SEEKJOY Community will be doing our best to boost and support active fundraising efforts that we are aware of and have done our best to vet. Links to where to donate are posted next to the groups in the On The Ground section above.
This community initiative, as with all of our others, is completely dependent on broad-based public support from people like you.
Want to help fund what we do? You can contribute to support this initiative specifically, or make a general contribution to our SEEKJOY Community Fund. Thank you for being you 🙂
#StopLine3