JPMorgan Chase opened a new branch in St. Paul, MN, on Tuesday, November 5th, 2019 and just minutes after doors opened to the public at 9:00am, the first locals arrived. These first few locals, however, were not arriving to open up new bank accounts. In fact, they were there to do just the opposite.
Within minutes of the new Chase location opening in St. Paul, banking associates were greeted by around 20 humans staging a "die-in", laying on the floor as if dead, filling the entire lobby area. Any members of the broader public would have had to walk across the seemingly deceased humans in order to meet with a banker.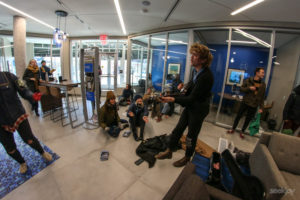 Motionless on the floor, the crowd was awakened and summoned to life by a banjo player and an impromptu dance-party began and continued until St. Paul police eventually arrived on scene and the crowd relocated outside the building on Grand Avenue for a rally.
The die-in, organized primarily by young people from Macalaster College, was a demonstration to show what will happen to the human species if massive corporations continue "business as usual" in the face of Climate Crisis.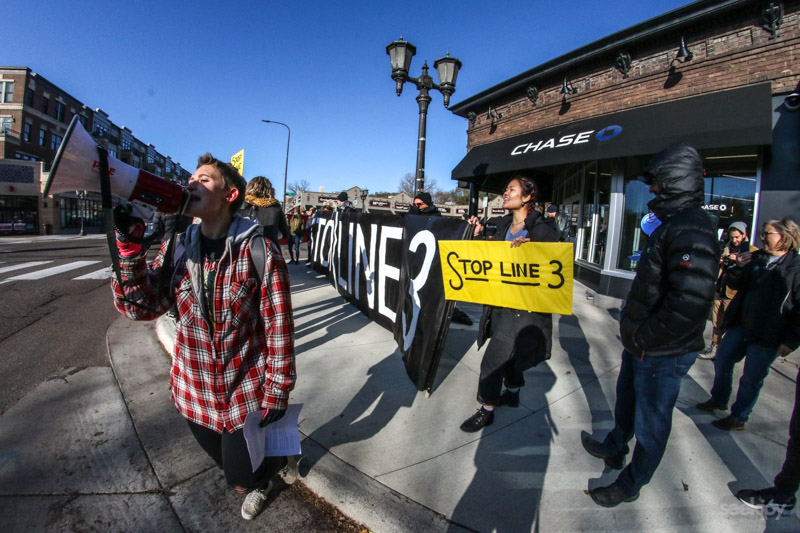 Why Chase?
According to Rainforest Action Network, since the Paris Climate Agreement Chase Bank has provided $196 billion in finance for the fossil fuel industry and leads the other major banking establishments in funding fossil fuels globally by 29%. Furthermore, Chase is the only bank financing all four of the key tar sands expansion companies, including Enbridge's Line 3 Tar Sands Oil Replacement Project and Keystone XL which are both designed to carry diluted bitumen (dilbit) from Alberta, Canada through the US to primarily serve global markets overseas.

After the rally, we spoke with several students.
Elizabeth Poor with Mactavists for Reproductive Rights at Macalaster, who attended the rally, stressed the need for students to get involved with activism. "I think it's easy to talk about things in the classroom and with other students, but what really counts is when you get out and actually fight them and come together with other students because we've got so many resources, it's a waste if don't use them. And what better way to use them to shut down corporations like Chase who are doing really shitty things for all the people we are trying to help."
Andrew Vrabel Miles, another attendee and participant in the Die-In, when asked about why he was there at Chase Bank responded that, "Any sane society would be taking immediate, radical measures to switch to clean, renewable energies. But, because its profitable for banks like this to continue investing, they continue to spew toxins into the communal air supply, and water… they keep doing these incomprehensible actions… they are choosing profits over people every time."
"Actions like this are really important because they hit the profits of Chase Bank. In the end, it's not morality that motivates them. It's not the fate of our children's futures. It's not my future, it's not your future. It's their bottom line. So, that's what a protest like this does. This is a very American, quintessential form of protest, a very patriotic thing to do. To say, 'I'm demanding these rights, and if I don't get them your bottom line is gonna take a hit today and every day.'"
Miles ended by encouraging others to get involved with actions like this in local communities, "I'm just a regular college student at Macalaster. I study Chemistry. You don't have to be, like, a big organizer. You hear about a protest like this… check it out online, you might figure out where the next one's happening. Come. Show up."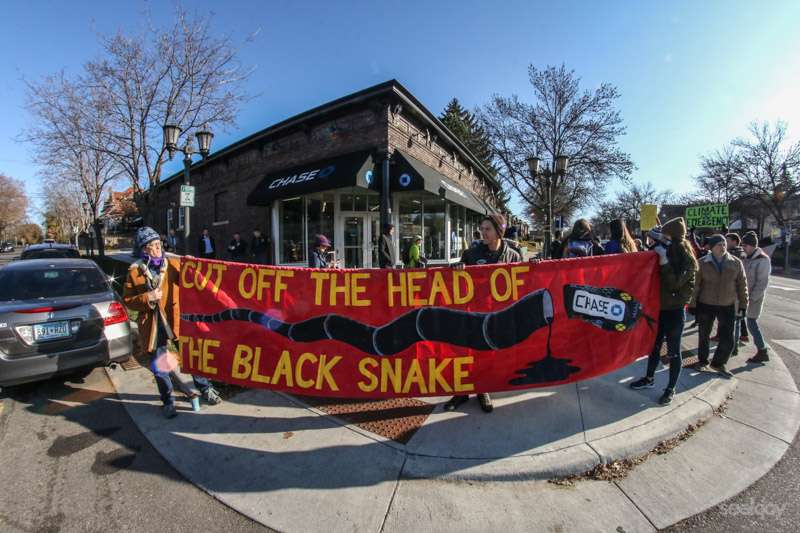 More about Rainforest Action Network's #ShutDownChase campaign can be found here: ran.org/shutdownchase. For a live-stream of the action, check out this video from the Stop Line 3 Facebook Page: https://www.facebook.com/StopLine3/videos/738267936637450/.
Photos captured from the day can be found via facebook at this link: (Coming Soon). High resolution images can be found on our SmugMug via this link: https://seekjoy.smugmug.com/Event/Chase-Bank-Shut-Down-Opening-Day-St-Paul-MN-Die-In-Rally/
Follow and support your local fossil fuel resistance!