Coalition groups opposing the Line 3 Tar Sands Oil Pipeline organized "Choose Your Line 3 Legacy, Governor Walz", a gathering at the Governor's Mansion in St. Paul, MN on Saturday Nov. 14th.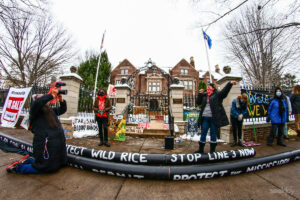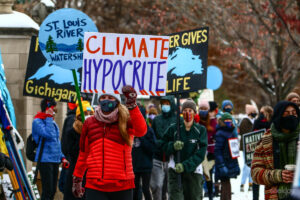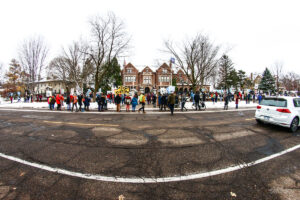 The event took place on the heels of the MPCA & DNR releasing all remaining permits for the Line 3 Replacement Pipeline Project, which had thus far been responsible for preventing Enbridge Energy from starting construction along the proposed route in Northern Minnesota.
Just hours prior to the DNR & MPCA's announcement granting the permits this past Thursday, Nov. 14th, Enbridge had filed notice to landowners along the pipeline route in Northern Minnesota that construction will begin on or around Nov. 30th, 2020.
Lawsuits challenging the legitimacy of the permits issued by the Public Utilities Commission earlier this year are underway and actively inn the appeals process, but court dates will not come until spring/summer of 2021. With what is known of Enbridge's construction timeline, the Line 3 Replacement Project would most likely be in the ground and flowing oil by the time the courts are deciding the outcome of the appeals.
One of the only ways construction can be stopped in the court system is via a Motion for a Stay Against Construction which would be filed by environmental & Tribal groups opposing the project. A Stay would essentially mandate a restraining order preventing Enbridge from continuing construction until the active legal challenges to the project have been resolved.
On August 18th, 2017, Tim Walz stated in a Tweet, "(1/2) Any line that goes through treaty lands is a nonstarter for me." Many speakers & signs during today's gathering called back to that statement now that under the Walz' administration, a 'line" that "goes through treaty lands" is now about to "start."
The coming weeks & months will be extremely important in the fight to #StopLine3, both in the courts & on the ground.
Photos from the "Choose Your Line 3 Legacy, Governor Walz" event have been posted to facebook here [Album on FB] and in high-resolution without watermarks to our SmugMug Portal [Event Gallery via SmugMug].
Video captured during the event will be made available in the coming days.