Several hundred people marched from Summit & Milton Ave in St. Paul on Saturday, January 9, 2021 in a demonstration against fascism, the lack of financial support provided as part of the COVID-19 pandemic response, police brutality & the Line 3 Tar Sands Oil Pipeline.
The "People's March" [Click for FB Event] was organized by the Twin Cities Workers Defense Alliance – WDA & the Twin Cities Solidarity Network and drew approx 300 people along a route down Summit & Ave in St. Paul, MN.
Speakers engaged the crowd at various intersection-stops along the way, speaking through a microphone & PA system mounted to the back of truck. From the event's Facebook page, the primary goals of the demonstration were to join with your neighors as we fight for:
Cash not COVID! Direct major financial support to all workers and tenants.
Community not cops! Abolish all police forces in the Twin Cities.
People not Pipelines! Protect water and stop all Line 3 construction.
Politics without Pissboys! Drive out violent fascists with grassroots resistance.
Photos captured during the march have been posted to SmugMug & FB via the links below.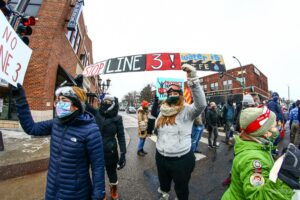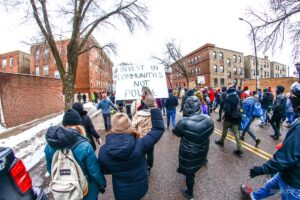 Links to Photo Galleries
---
Hi-Resolution Smugmug Gallery
---
---