A gathering & march took to the Lake & Marshall Bridge across the Mississippi River on Sunday, December 20th in solidarity with the indigenous nations fighting the recently approved & under-construction Line 3 Tar Sand Oil Pipeline Replacement in northern Minnesota.
The gathering, organized by MN350's Pipeline Resistance Team, began with a rally & speakers on West Mississippi River Blvd in Minneapolis. The group then departed from the green space onto the sidewalk of Lake/Marshall Bridge, eventually shutting down traffic on the Bridge for approximately 30 minutes.
The primary message of the action was "River at Risk". North of Lake/Marshall bridge approximately 150 miles is Palisade, MN, where Enbridge Energy is currently clear-cutting forests to make way for a drill pad which is being positioned bore under the Mississippi River so that Line 3 can cross underneath.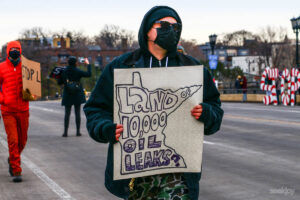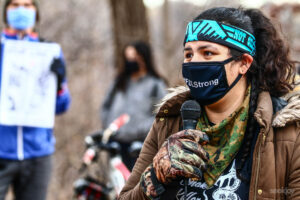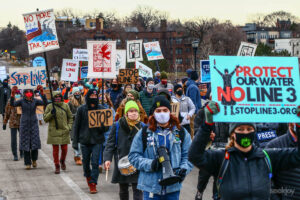 Links to Photo Galleries
---
Hi-Resolution Smugmug Gallery
---
---