We recently had the honor of joining Bill Paulson of Camp Turtle Island on the White Earth Reservation to harvest sap from the Maple Syrup trees, a central component of the Spring season which, according to Paulson, is the "New Year" for the Anishinaabe People.
The gathering of Maple Syrup is one of many the many rights protected by treaties between the Anishinaabe and the United States Government. We'll be uploading some video we captured of Paulson speaking on this topic in the next day or two – check back in a bit!
We've posted photos from our day in the Sugar Bush to facebook and non-watermarked, higher resolution images to our smugmug (links below).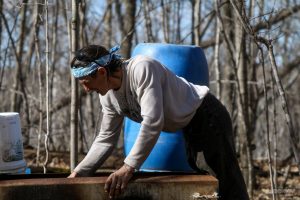 View Full Post