In the late morning of Monday, February 4th, 2019 four Catholic Workers participated in a non-violent direct action (NVDA) which forced the shutdown of Enbridge Energy's Line 3 & 4 pipelines in Northern Minnesota.
The four activists, acting as the group "Four Necessity" are Brenna Cussen Anglada, Michele Naar-Obed, Daniel Yildirim and Allyson Polman. The action was live-streamed via Facebook on the Four Necessity Facebook Page until local law enforcement demanded the phone be turned off prior to being taken into custody.

Shortly after the action and arrests, the Four Necessity Facebook Account was unwillingly shutdown and the action's livestream, as well as subsequent posts became "Unavailable" although the group's twitter and instagram accounts remained active.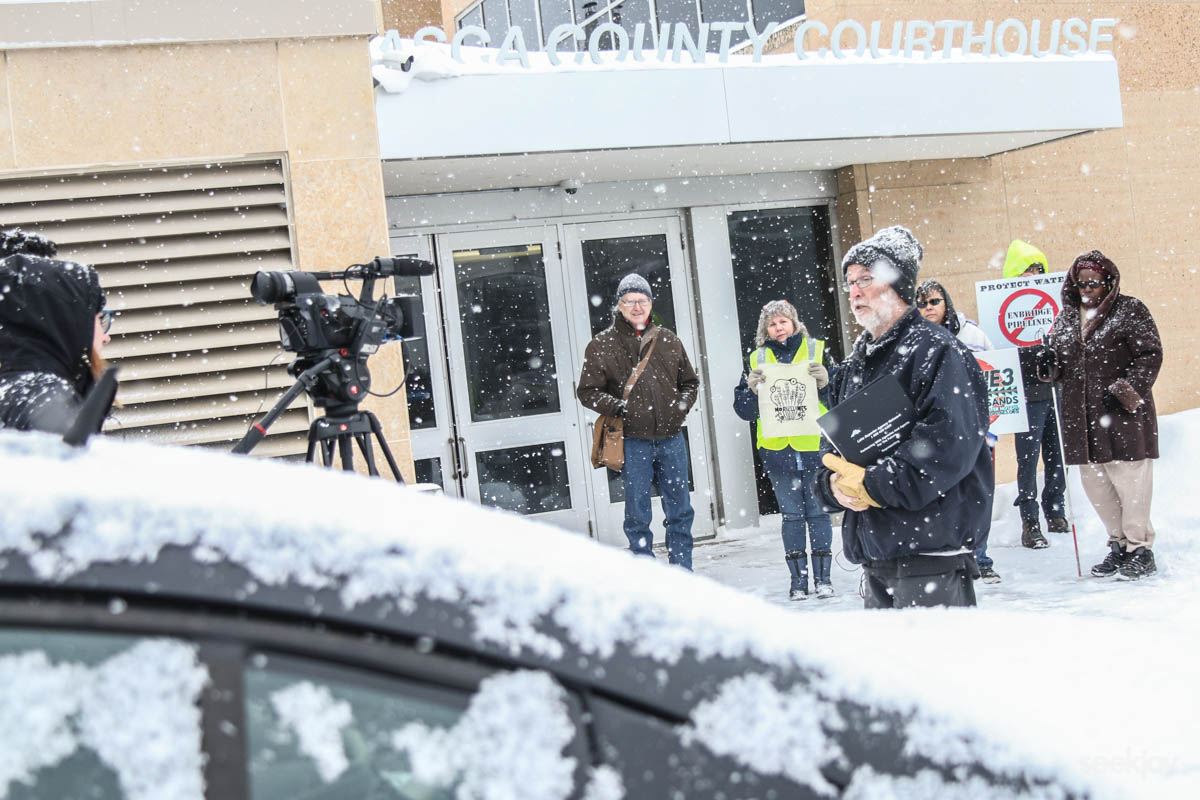 Arraignment for the group was scheduled for 11 A.M. Wednesday, February 6th at the Itasca County Jail in Grand Rapids, Minnesota.
A callout was made for the public to attend the arraignment and pack the courtroom, which drew over 20 people and filled the back wall of the courtroom.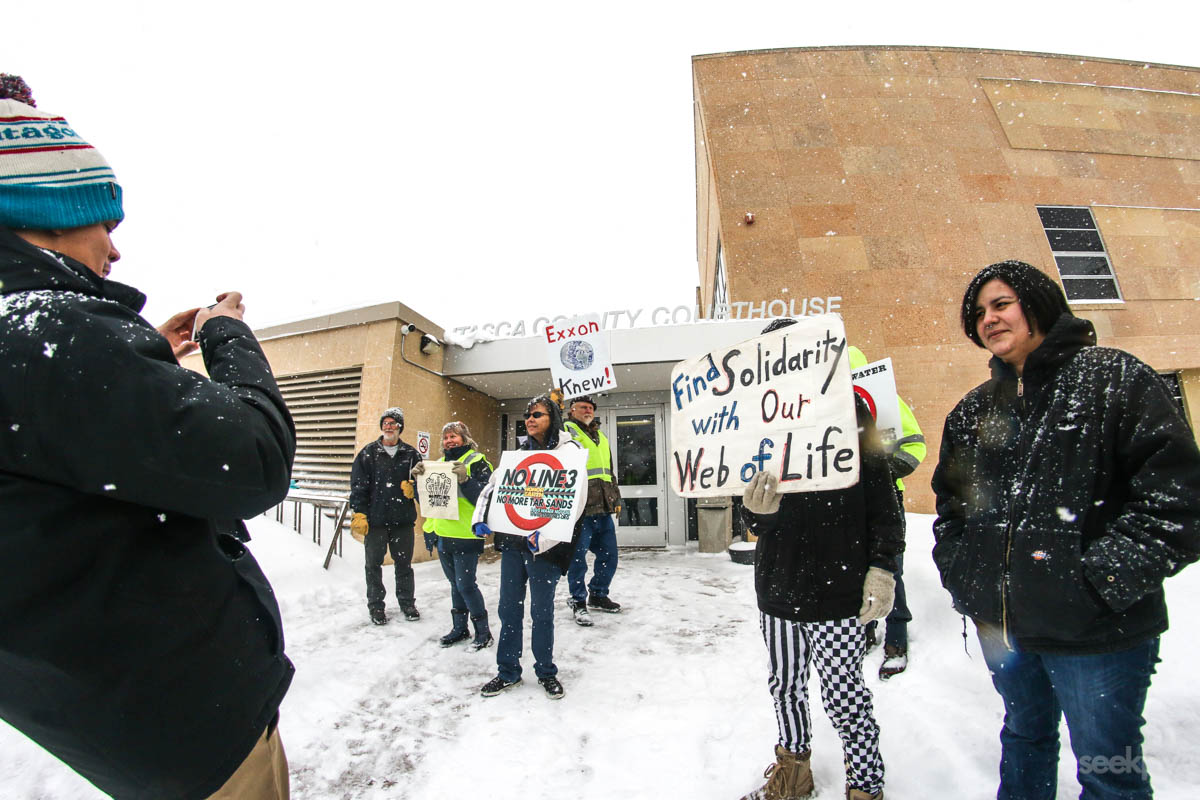 The courtroom attendees, many wearing bright colors and/or safety vests to show support for the Four Necessity group, were standing when presiding Judge Sarah L. McBroom entered the courtroom, a symbolic gesture representing they stand for justice, not the judge. When the Judge called for all to rise, no supporting attendee moved.
Called individually to the stand, Judge McBroom and District Court Prosecuting Attorney David Schmit read the complaints and filed the corresponding charges, which were the exact same for each defendant: Aiding or Abetting Attempted Damage to a Pipeline, a Felony, and Aiding or Abetting Criminal Damage to Private Property in the 4th Degree, a Misdemeanor.
Each defendant had the choice between Bail with unconditional release at $10,000 or a conditional release on a Personal Recognizance bond if the defendants agreed to stay in regular contact with their attorney, be law-abiding, be read the Failure to Appear notice, show up at their scheduled court dates, and not come in contact with Enbridge Energy or its property. The latter option was chosen by each defendant.
The Four Necessity group each submitted a request to the court that their cases be consolidated, which will be a decision the court will make at a later date.
The Rule 8 hearing, which is the next scheduled court appearance for the Four Necessity Valve-Turners has been scheduled for 9:30 A.M. on February 19th at the Itasca County Jail.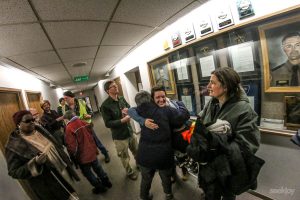 While at the arraignment we had the chance to speak with several members of the public who attended the court proceedings in solidarity, as well as the Media Spokesperson for the Four Necessity Group, Diane Leutgeb Munson, of Winona, Minnesota (Featured in the Video).
As of late in the evening yesterday, Wednesday February 6th, 2019, the Four Necessity Facebook Page was made active again and the original livestreams of the action, six separate videos due to various interruptions and technical difficulties, are again publicly accessible.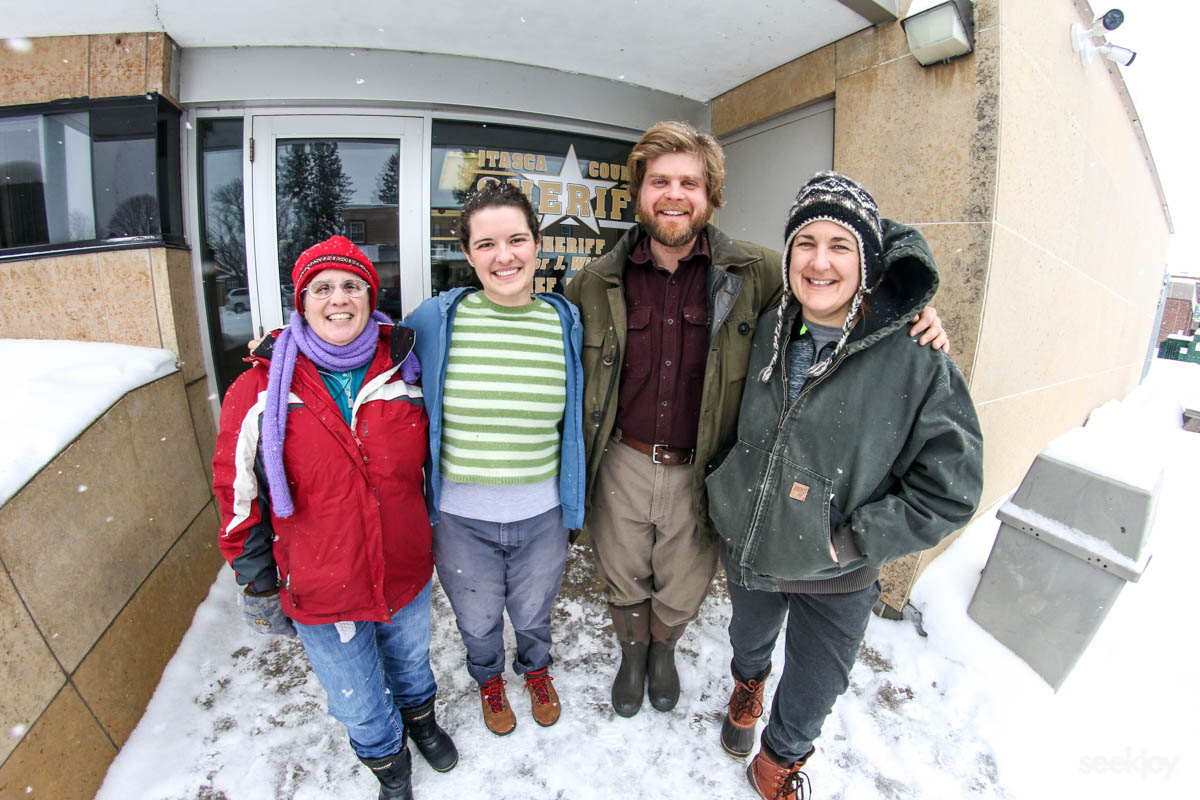 Learn More about the Four Necessity Valve-Turners on their website here: 4necessitymn.wixsite.com/valveturners
Facebook: facebook.com/Four-Necessity-377882972989524
Twitter: twitter.com/4necessity
Instagram: instagram.com/4necessity/
View the Facebook Version of this Video Here: facebook.com/SEEKJOYco/videos/615940648828050/